Watercolor pencils are a medium that is the best of both worlds for artist who draw and paint. They have a similarity to colored pencils, but react to water and behave a bit like paint.
Sketching with watercolor pencils.
The main reason I prefer to use watercolor pencils for sketching over standard colored pencils is because of their flexibility with how I can use them.
Flexibility and Versatility
I can sketch with them dry and then blend the colors together with a little water and do another pass with them. Then finish the sketch with some ink lines. 
Watercolor pencils are a great sketching tool that have more flexibility than what most people realize. I use them all the time dry or wet and I mix them with pen and ink brushes in a various ways for my sketches and illustrations.
Since I like to work with brush pens and ink on top of my sketches using watercolor pencils that don't leave a waxy coating is important to me. My ink and brush pens draw on top the watercolor pencils and it looks great with no issues.
Watercolor pencils are water-soluble so you wont get a wax build up. Which is great for mixing different media together.
Color pencils can have a waxy finish they lay down with there pigment. Pens and brushes can get a build up and become clogged from the wax of the color pencils. Which will cause consistency issues with them or worse ruin them.
Availability
Many brands of watercolor pencils can be found online or at a brick & mortar store.
Online will definitely give you the most options in variety, but I am always wanting to test out the colors and "lead" quality before I buy. You can't do this with online stores.
Stores don't always carry a wide range in brands. They usually carry what is popular, but you will be able to test the pencils there to find what ones you like best. I like to mix and match between a few brands and build my toolkit as I need it because I prefer certain colors over others.
Color and Pigment
When using watercolor pencils dry they look very similar to color pencils. Color quality from what I can tell is similar too. Depending on the brand the "lead" might be a little more soft and have slightly different look.
Adding a little water will transform into beautiful color washes. The colors can become more rich and vibrant.
Depending on your technique and how much watercolor pencil you lay down you can get some incredible results. I highly suggest you experiment with this if you haven't yet.
Something to be aware of is that not all colors and all brands match each other. A red from one brand will not always match a red from another. So it is important to test them out before buying if this matters to you.
Overall thoughts
Pros:
Flexibility in the ways they can be used. (Can use dry or wet or any variety)

Available online or stores.

No waxy coating that standard colored pencils can have.
Can customize your color palette in your toolkit.
Cons:
Durability can be an issue. The "lead" can be delicate. If dropped that can cause break's or fractures.
Additional thoughts about watercolor pencils.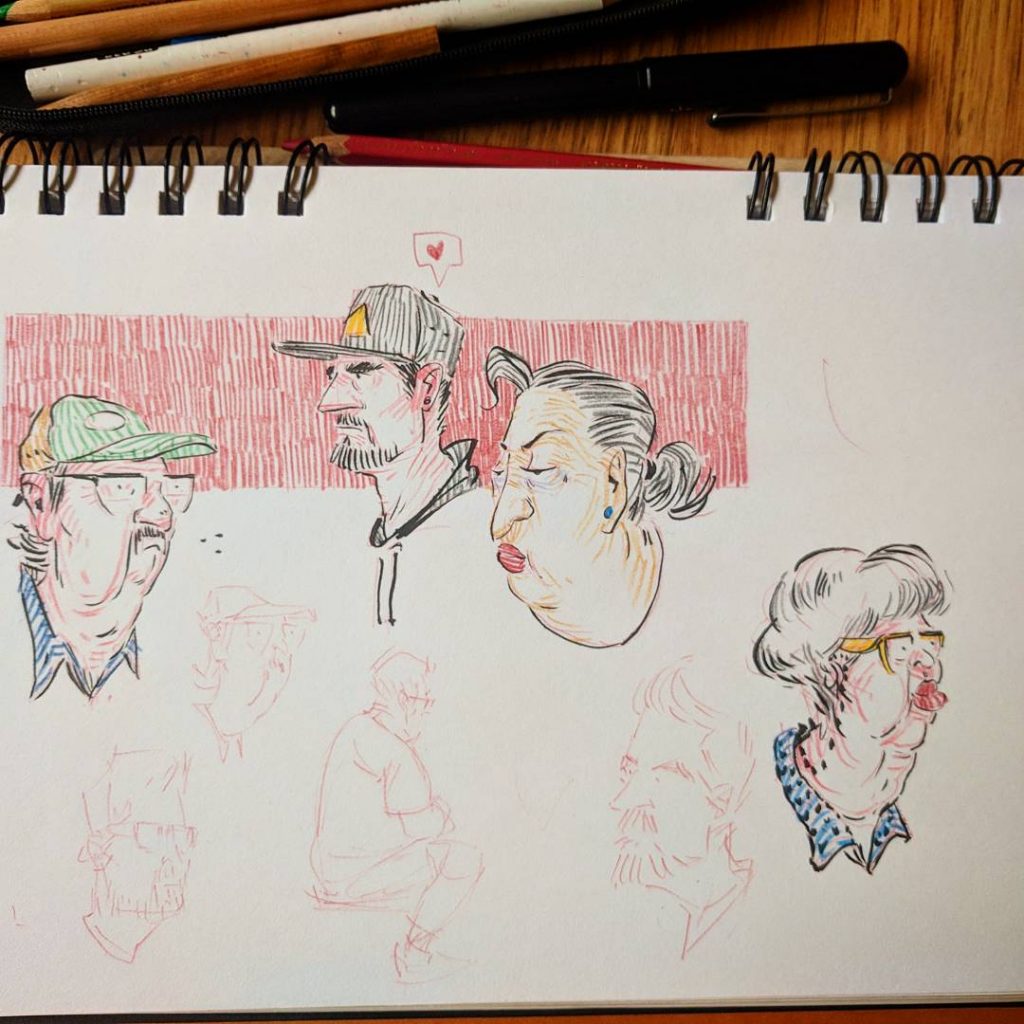 What makes a good watercolor pencil?
This is very unique to the artist and there individual needs in my opinion. So I will share what I look for in watercolor pencils and why I chose certain ones over another.
Color and variety of colors to allow me to customize my toolkit.

Barrel shape. I prefer a hexagonal barrel over a round.

I prefer a medium hardness. If it is to hard it could scratch the paper.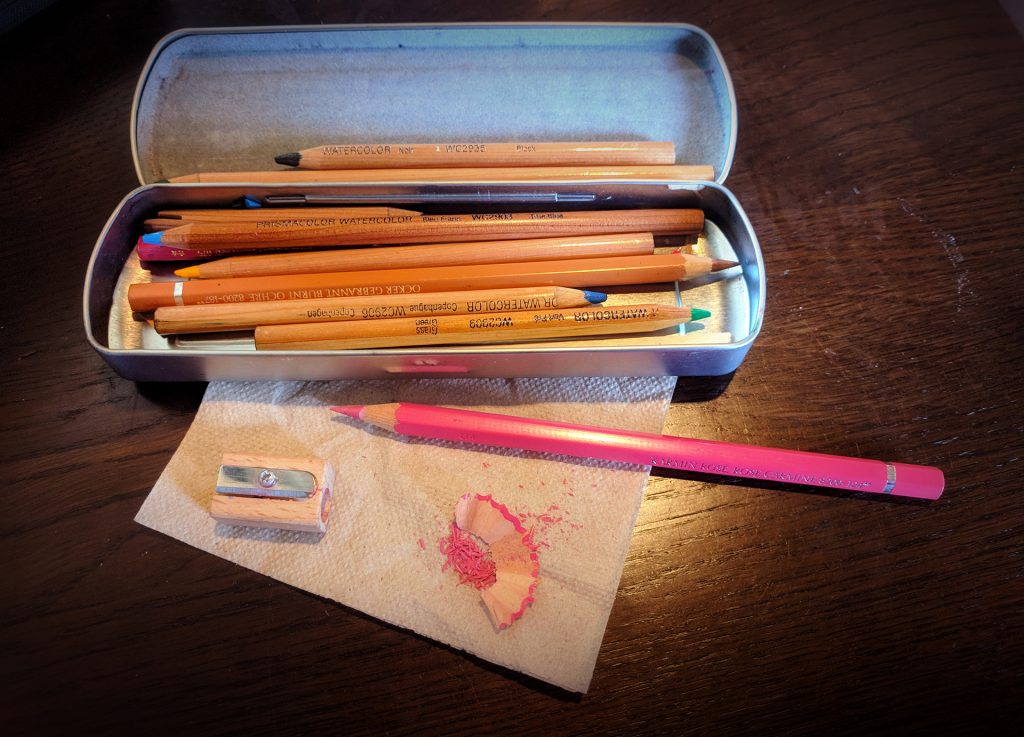 Watercolor pencils & some of their characteristics
There is a fair amount of brands and styles of watercolor pencils out there. Experimenting with what works best for you is important. That being said I will share some of the ones I know and like.
My personal favorites that I use on a regular basis are
Prismacolor Watercolor Pencils
I started with these when I first bought a Prismacolor Watercolor Pencil Set of 12. I used these for a while and I really enjoyed.
The only issue I kept having was that they would roll off my desk or the table at the coffee shop when I was sketching. When they smack the ground the interior would crack so then when ever I would sharpen them the tip would come lose and fall out quickly and it was a pain to keep sharpening them so often.
I still use them now and still I get the occasional run away pencil.
Prismacolor Watercolor Pencils.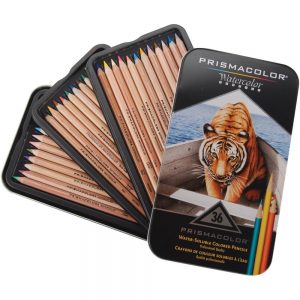 Pros:
Available in many locations and is fairly affordable.

Good colors for the price.
Cons:
Round barrel. That means these little guys end up rolling away sometimes and fall on the floor cracking the center in a variety of places which can be very annoying.
________
Faber-Castell Albrecht Durer Artists' Watercolor Pencils
I like these for specific colors. I do have a few in my tool kit right now. The colors are very nice and the hexagonal barrel helps prevent most run away pencil issues.
Albrecht Durer Artists' Watercolor Pencils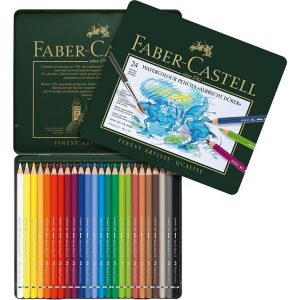 Pros:
It has a hexagonal barrel that keeps it from rolling away.

Color quality is really nice.
_________
Caran d'Ache Supracolor Soft Aquarelle Pencils
I get a couple of these once in awhile. I really like these pencils, but they are a little more difficult to find in stores and since I want to test the colors before I buy I don't really have many of these.
Caran d'Ache Supracolor Soft Aquarelle Pencils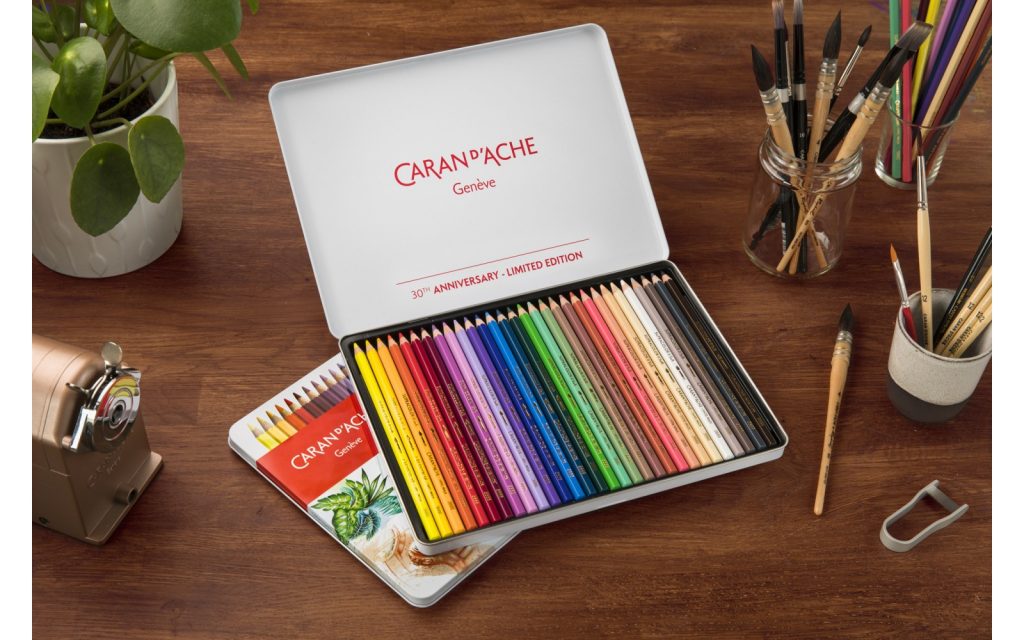 Pros:
Great colors and the lead has a nice density to it.

Has a hexagonal barrel.
Cons:
A little harder to find if you want to buy it in a store. You will find them online.
Here is a short list of some watercolor pencils you can get. There is definitely a lot of variety out there so have fun with them and experiment to find what works best you.
Cretacolor Aqua Monolith
I hope this has been of some help and informational in some way. I really do like using watercolor pencils for sketching and drawing. I find them to very versatile. Happy arting!