What is the purpose of having a sketchbook? What kinds of sketchbooks are there and how to choose the right one?
A sketchbook is a tool used for practice, exploration, creativity, documentation, art journal and a variety of other uses. It is typically a book or a pad of paper.
How many types of sketchbooks are there
There are several types of sketchbooks.  They come in many different sizes, shapes and paper stock. Here is a short list for the ones that I believe are worth mentioning.
1. Moleskine Art Collection – Sketchbook Hard Cover
These sketchbooks have a nice quality heavy stock paper that is smooth and ivory colored. The corners are rounded and it has a built in bookmark. There is also an elastic to help keep the sketchbook closed when carrying it around.
2. Moleskine Art Collection – Watercolor Hard Cover
This watercolor sketchbook uses cold-pressed cotton-blend paper, it can handle large amounts of water on both sides. The corners are rounded and it has a built in bookmark. There is an elastic to help keep the sketchbook closed when carrying .
Moleskine Watercolor Sketchbook – Black
3. Strathmore 400 Series Toned Sketchbook Hardbound Art Journal
This is a nice sketchbook with warm tan and cool gray options for the paper. I can use a variety of mediums on this paper and not have any issues with bleeding through or buckling of the paper.
Strathmore 400 Series Toned Sketchbook
4. Cachet Earthbound Sketchbook – Toned Paper Hardcover
Cachet Earthbound is a good sketchbook made with 100% recycled paper that is toned. This paper can handle most mediums, but it is not able to handle more than a few light watercolor washes.
5. Cachet Artist Sketchbook – Hardcover
This sketchbook has  excellent tooth for all drawing techniques and takes light watercolor work really well.
6. Canson Field Drawing Sketchbook
This is a spiral bound sketchbook with two hard covers and a medium texture paper that is a cream color.  The paper is good for  pencils, pens, paint and some light marker or watercolor washes. 
Canson Field Drawing Sketchbook
7. Pentalic – Aqua Journal
Pentalic Aqua Journals contain acid free cold press white colored paper that provides the perfect weight and texture for watercolor sketching. Each Aqua Journal is bound in a landscape format and lays flat when open.
8. Leda Art Supply – Medium Art Journal
I like this sketchbook a lot. It is versatile and use a variety of mediums and can handle light watercolor washes. Paper quality is nice and has some weight that are light beige in color. There is an elastic band to help keep the book closed when transporting which is always nice.
Leda Art Supply – Medium Art Journal
How to choose a sketchbook
 Choosing a sketchbook is a personal choice. You need to think about a few variables that will definitely influence your decision.
How will you be using it?
Are you going to be doing a lot of idea scribbling? Do you need a durable cover for field sketching? Just a little thought on this will narrow down what you are looking for quite a bit.
Where you will be using it?
If you plan on using your sketchbook on the go. Then maybe a smaller one will be better for transporting around. Something you can easily tuck away into your pocket or bag.
What kind of drawing tools do you plan on using?
The type of tool you choose will affect your choice in the stock of paper you might want in your sketchbook. For example say you want to use watercolors in your sketchbook. Making sure you have a sketchbook with heavier paper that can handle the medium. Otherwise you can get bleeding through on to other pages and you could possible ruin them.
Those are the main questions you should ask yourself when picking out a sketchbook.
 How I use my sketchbooks
I use my sketchbooks in 2 ways for the most part
Exploring Ideas – Working out  internal concepts that you have.
Studies – This is observational. Such as field sketching, master copies, academic studies and visual note taking.
Sketchbooks I prefer to use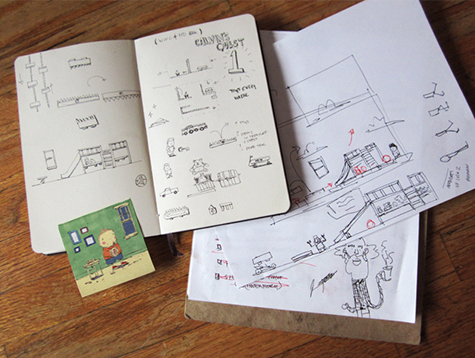 Moleskine Sketchbook – Large & Pocket
These are great for all purpose sketching. They can handle a wide variety of mediums. The paper is smooth and works well with pen and ink. The only thing is they can't handle too much water, but with gouache there are no problems.
Pentalic Aqua Journal
I like this paper because it can hold watercolors, markers and guache very well with no buckling or bleeding. The paper is cold-pressed and is the same on both sides.
Toned Sketchbook
I haven't found a brand that I like just yet. I have been using Cachet Earthbound for the time being. I prefer a more smooth paper stock. The toned paper is great with markers, pen and a white gel pen. I find this perfect for field sketching and observational sketching.
Clipboard & Copy Paper
That's right! This is surprisingly what I use most of the time when I am home or in the office.  It is cheap, easy and  accessible. I normally only use pen, marker and pencil on this type of paper just because it isn't able to deal with any water. This is the perfect sketchbook for me when I am working out concepts/ideas.